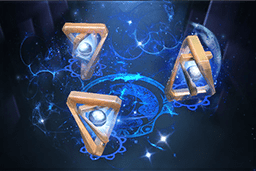 ---
Equippable by all heroes, Aghanim's magnanimity imbues this item's chosen bearers with an exclusive emblem featuring the Aegis of Champions and custom ambient effect.

This cosmically rare prize was awarded as a random drop while opening Immortal Treasures during the Aghanim's Labyrinth 2021 Battle Pass season.

Only one Emblem can be active on a team, so in matches with multiple players with Emblems, the active Emblems are determined by players' Battle Pass levels.
9 similar items are available:
Aghanim's Labyrinth - Fall 2021

(7mos ago)
Standard Aghanim's 2021 Emblem

$371.92
---